Bronze Valves Valves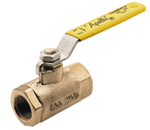 We use only high quality ball valves with a variety of options. Most are in stock or offer delivery times of less than one week.
Special options or larger quantities may require two week lead times.
Please review the following link for model numbers and product specifications.
Apollo Bronze Ball Valve Catalog